Kennedy Reid M.A.T.C.H.
At Kennedy Reid, our hiring process doesn't just guarantee you great service but also great results. Our recruitment methods guarantee we find you the best fit. We are very clear in our understanding that skills can be taught, but behaviours are ingrained. Ensuring that the skills of a candidate are in line with the requirements of a role is vital, as is ensuring an alignment of an individual's behavioural attributes to the culture and values of the organisation.
Through the Kennedy Reid M.A.T.C.H method we find the best and most suitable talent for you:
​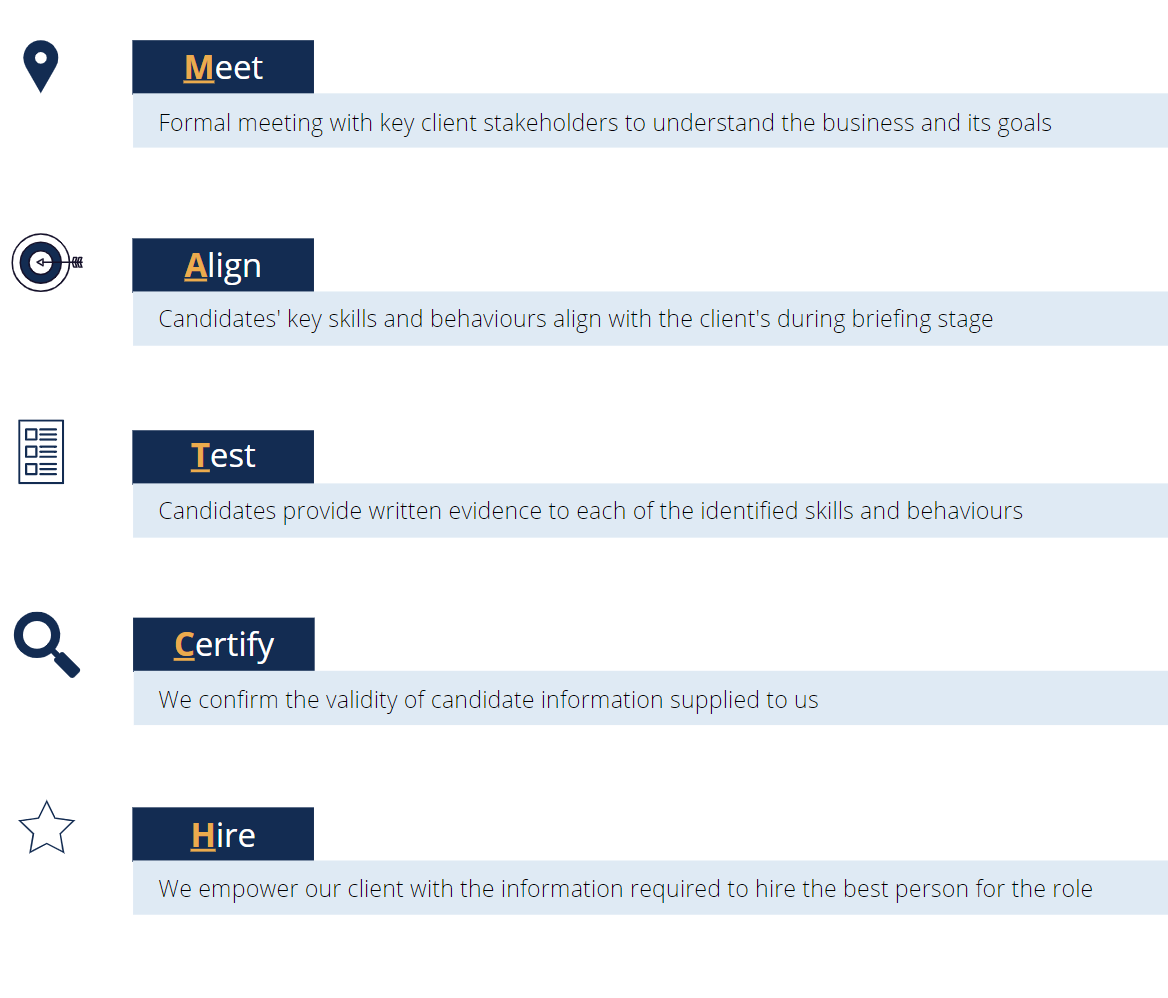 How it works
Kennedy Reid goes beyond offering general recruitment to provide companies with a more in-depth and end-to-end experience that delivers results. We work in partnership with you to understand your needs and through our dedication and outcome-based success build positive long-term relationships.
When a Kennedy Reid Consultant is appointed a role, Kennedy Reid undertakes the following process:
​
Stage 01. The Brief
Kennedy Reid meets with key representatives to understand the organisation's drivers. We benchmark the specific outcomes and provide a detailed breakdown of the clients' needs. There is a strong focus on determining the desired skills and behaviours, as well as outlining any remuneration details.
​Stage 02. The Search
For over a decade Kennedy Reid has built a significant amount of intellectual property regarding high value candidates in the built environment market, and we have a team of full time Candidate Managers dedicated to building our prospective candidate pool. During this stage we undertake a thorough search to find top talent that most closely align with the brief.
Stage 03. The Selection
​Using the Assignment Brief, we work through the Search Record with the client to narrow down candidates to a realistic and manageable number of suitably qualified, experienced and motivated individuals. Once interviewed, confirmed and selected, Kennedy Reid manage all reference checks, remuneration discussions, onboarding and post appointment care.