​Welcome to our latest update!
In this month's update, we focus on the latest figures of the highest job ads recorded in history, salaries that are on the rise & outline what this means for employers & job seekers.
SEEK's latest figures, announced in March, show that the company has recorded the highest number of job ads in its history. Job ads have increased by 5% month-to-month and by 32.2% year on year. This is 50.7% higher than they were in March 2019, with job ads increasing in 26 out of 28 industry categories.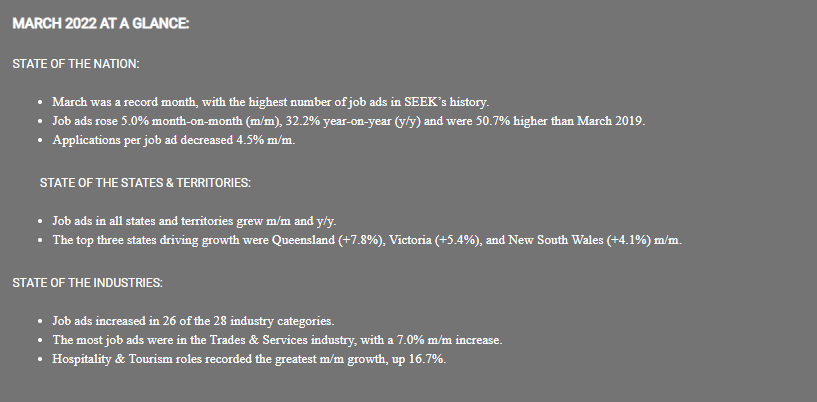 Source: SEEK Employment Report - Record breaking March rounds out strong start to the year
The unemployment rate is currently sitting at 4%. And, due to the border being closed for two years until early 2022, there are fewer candidates available - creating a significant increase in demand due to sectors experiencing fewer candidates & skill shortages.
​
WHAT DOES THIS MEAN FOR EMPLOYERS?
These days, it's all about the candidate. As a result, employers must focus on their employee value proposition and bring it to the forefront. This means focusing on things like company benefits and culture.
Here are a few ways how employers can attract talent in this market:
Work on your Employer Brand

Offer Perks & Benefits, i.e. bonuses overtime, flexibility to WFH or onsite

Opportunities for career growth, upskilling & development

Innovate your interviewing process

Launch an employee referral program
Candidates nowadays are looking for more than just a paycheck; they want to work somewhere that values them and can see a future for themselves, making it crucial for businesses to position themselves as attractively as possible.
WHAT DOES THIS MEAN FOR JOB SEEKERS?
The good news is that if you're employed, your chances of getting a raise or finding a great new job are significantly higher than they were just a few short years ago. So, if you're on the hunt for a new opportunity, now is the time to start looking. There are plenty of opportunities, and you can expect to earn a competitive salary if you land a role.
Salaries are on the rise:
SEEK data shows that the average salary growth for an insurance professional increased by 6.8% in the last two years. The pool of available candidates has shrunken during that same time, leaving businesses struggling to find qualified staff. The demand for qualified insurance professionals has never been higher, yet the supply of candidates has dwindled. Businesses are struggling to keep up with the demand, and many are resorting to offering higher salaries and better benefits in order to attract and retain talent. As the competition for qualified insurance professionals continues to heat up, it's clear that businesses will need to do more than ever before to find and keep the best employees. There has been significant growth in salary across many industries, with some having more than a 30% increase. To find out what other salaries are currently on the rise, head to SEEK.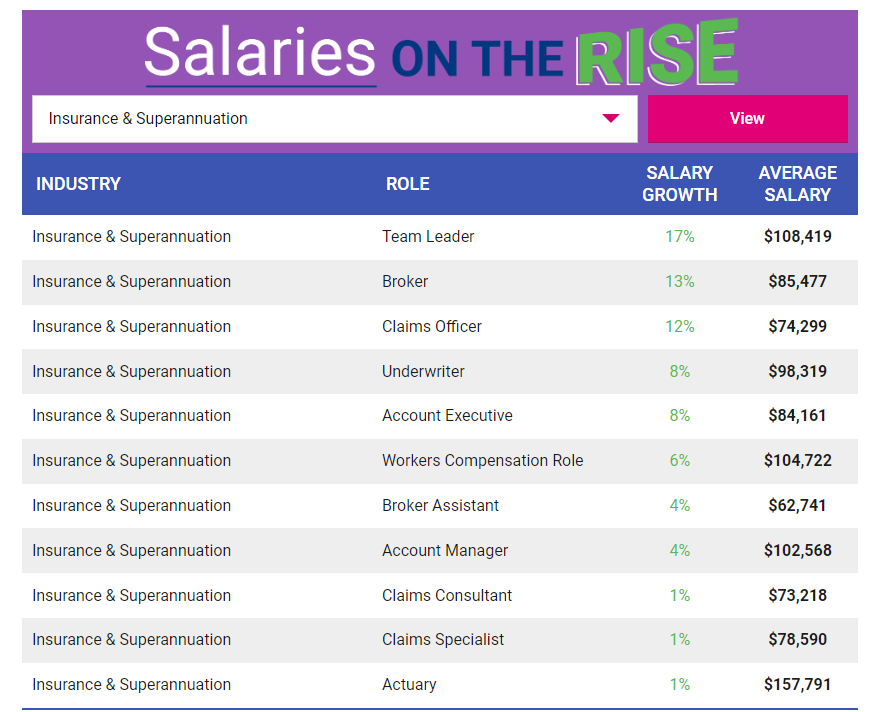 The job market is booming, with salaries rising and more jobs being advertised than ever before.
Employers should be prepared to offer competitive wages and top-notch benefits to attract the best talent. At the same time, job seekers can use this information when negotiating pay or searching for their dream position. With unemployment rates sitting at 4%, and the economy growing steadily, now is an excellent time to be looking for a new job!
​
If you're a jobseeker considering making a change or an employer searching to recruit talent, contact us today – our team of experts are here to help! Get in touch by filling out the form below.
​
​
If you like this blog, you might also like: