I've been working full-time for a couple of years now and with that, I've learnt that it is very easy to get into a mundane routine. Of course, this is sometimes a good thing and it is good to get into the Monday-Friday grind of work, but this can sometimes become a little dull. What I've noticed over the past couple of years, is that unless you make a conscious effort to spice it up, it is easy to just let the weeks slip by, with no major altercations.
The reason I have come to write about this semi-random topic is that one day this week, I missed my stop on the train and just kept going by accident. I am supposed to get off the train at Wynyard, but I looked out the window and was like "Oh – there is the harbour – I messed up here". So, I got off at Circular Quay and walked up Pitt Street to our offices. It was a lovely day and it was nice to have the change of scenery from my usual dash from the station to the office. It made me realise that half the time, I am so in my own little world that I forget about what is going on around me. This little experience made me look at the world around me and consciously think about what I am doing.
This inspired me to write a couple of ways to your spice routine up, and how important it is to keep life interesting and appreciate what is going on around you.
To do this, I'll obviously focus on weekdays (because let's face it, the weekends are spicy enough). Please refer to our KR Spice O-Meter which is inspired by Nando's (because we all love Nando's) which you can base how much you want to spice it up on any given day.
​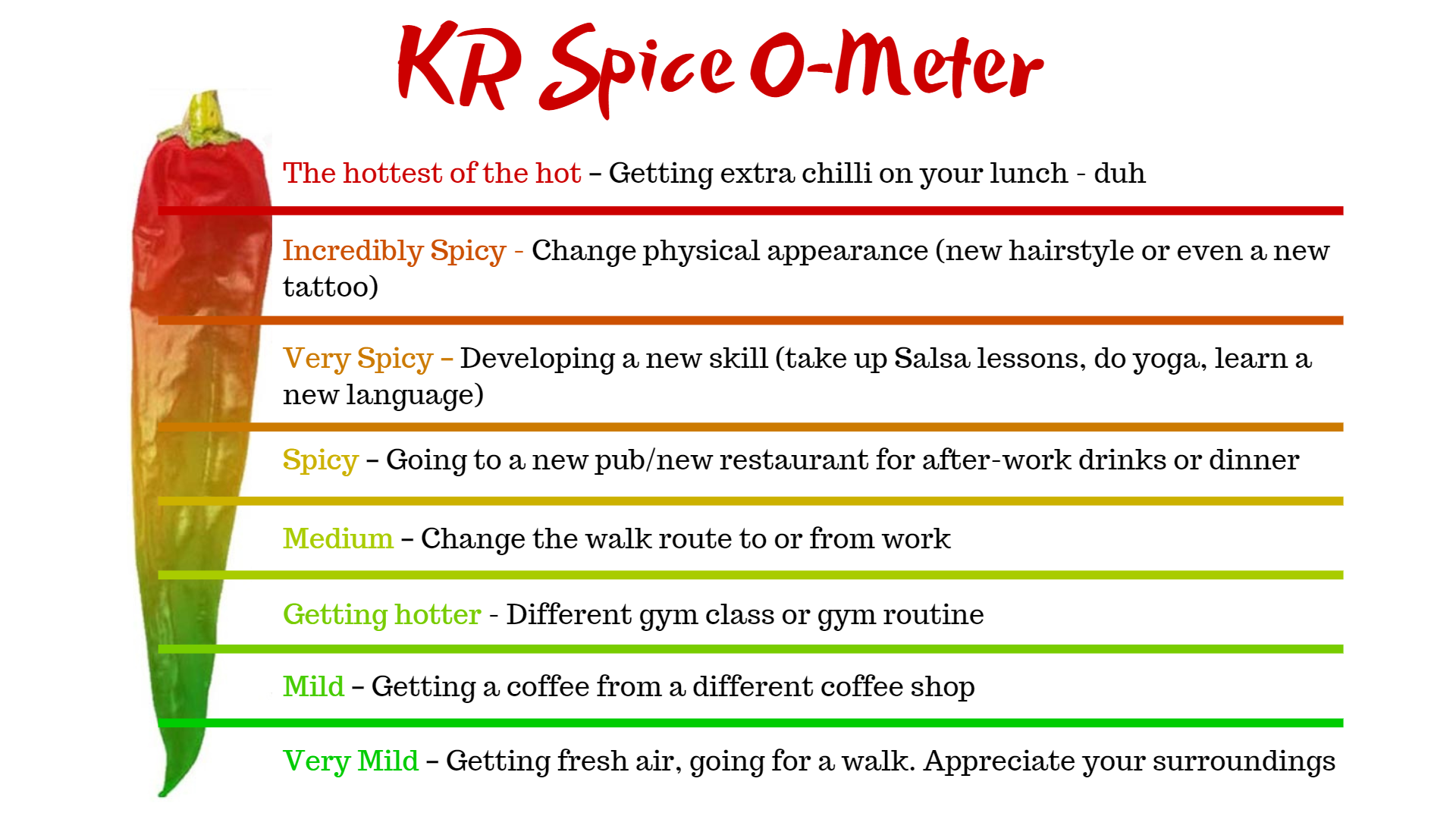 ​
Some ways of spicing things up are mild, and others are crazier, but I think it is important to at least try and change things. You may find yourself feeling happier, more productive and appreciating life a bit more just by changing a few simple things.
If you like this blog, you might also like:
There are never enough hours in the day!